Events
Image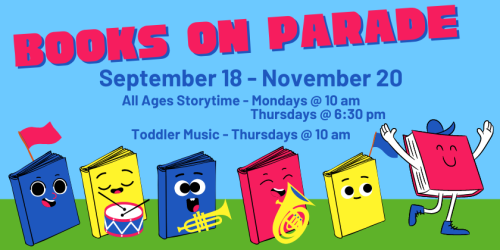 September 18-November 20
Mondays @ 10 am
Thursdays @ 6:30 pm
All Ages Storytime - Mondays @ 10 am & Thursdays @ 6:30 pm
For children and their caregivers. Celebrate stories as we share books, rhymes, music and movement in a format appropriate for young children. This program runs approximately 30 minutes and will be the same for both the Monday morning and Thursday evening session. 
(There will be no Thursday PM Storytime on October 5.)
Toddler Music - Thursdays @ 10 am
Enjoy fun ways to develop early literacy skills in young children with music, dancing, singing and exploration of simple musical concepts. Recommended for ages 1-4, siblings welcome. Great for wigglers! This program runs approximately 30 minutes. 
Image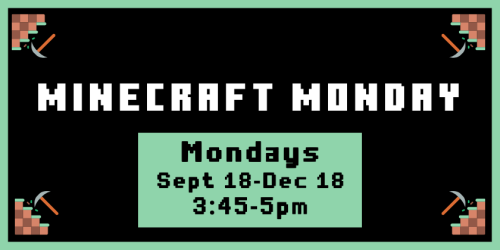 September 18-December 18
Mondays, 3:45-5pm
Come play Minecraft at the library! 10 players at a time may play in the library's private realm using the library ipads. 
There will be a signup sheet available at the Children's desk, the first 10 people to add their names to the list will be able to play using the library ipads. If necessary, we will add names to a waitlist.
Ages 6-15, first come, first served. You are welcome to bring your own device and play Minecraft in your own world!
Image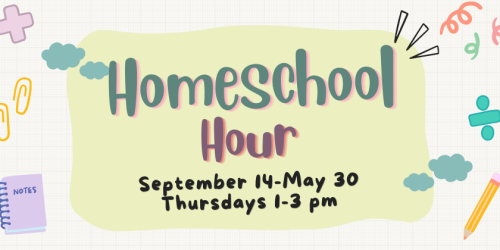 September 14-May 30
Thursdays 1-3 pm
The library meeting room is reserved every Thursday from 1-3 pm. The first Thursday of each month, Ms. Amy, one of the Youth Services Librarians, will lead the group activity. Every week will be fun and full of variety, giving the homeschool community a chance for learning and connection. Click here for more information about specific dates.